CEMaC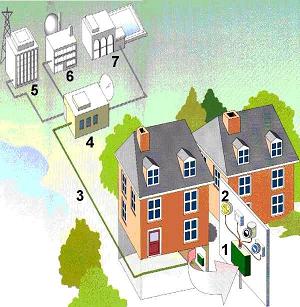 A CEMaC Transponder, 'The Green Box', installed in every home records pulses from water, gas and electricity meters. It gathers this data and transmits it to a central computer, giving utilities fast real-time access to not only the amount of energy used, but also when it was used.
To the public utility customer, CEMaC is nothing more than a small green box conveniently located in their homes and linked to their gas, water and electricity meters and to switchable devices. But to the utilities themselves, it's a new direct data and communications link with their equipment inside their customers' homes.
CEMaC also permits utilities to transmit data via a central computer to each Green Box. This means the utility can regulate supply instantly or according to pre-programmed instructions, turning power on or off to individual appliances in individual homes -- all totally transparent to the customer.
The CEMaC (Central Energy Management and Control) project was successfully completed in 1989 together with the Provinicial Government, Ontario Hydro and Classicom Cable TV.
What the Green Box can do - An Overview of CEMaC Benefits
Among other things, the CEMaC can...
provide design flexibility and expandability
require no major new installation to operate; it makes use of existing two-way communication capabilities, sending its data via coaxial cables, power lines, telephone lines or radio waves
read 3 or more meters at any single location
shed or restore several loads at pre-programmed times or in real-time
randomly stagger the implementation of load shedding or restoration for a time period programmable by the utility
provide TOU (Time of Use) meter reading at time periods programmable by the utility
detect tampering
provide switch capacity for future use
allow any meter to be read in real-time
provide an external port to allow data to be passed through to other data-activated equipment at the customer's location
operate at data speeds of up to 115 kbps, depending on the communications system chosen
communicate over any standard communications system, including Cable TV coaxial cable, telephone pairs, radio, cellular telephone, power line carrier or fibre optics
communicate with a utility in the protocol the utility prefers, and can be integrated with existing computer systems
provide complete security of information from the customer to the utility
can improve utility cash flow by providing for monthly meter reading and highly efficient bill production turnaround - without estimates or the need for customer read cards or special read visits
provide design flexibility and expandability
require no major new installation to operate; it makes use of existing two-way communication capabilities, sending its data via coaxial cables, power lines, telephone lines or radio waves
Where cable TV companies operate, CEMaC can efficiently utilize a small portion of the wide bandwidth available on existing coaxial cables, already being used to transmit audio and video television signals. CEMaC uses the capacity of the coaxial cable to transmit data to and from the Green Boxes installed in each home.
A CEMaC computer located centrally at the cable company's "Head End" is the hub of the system. Through it, the CEMaC transponders send their data to the utilities and in turn the utilities transmit their instructions to the transponders.
The entire CEMaC system is totally transparent to cable TV customers. It doesn't affect their television picture or their cost of cable service. But it does have the potential to beneficially affect the cost of their energy and water costs.
CEMaC IS FLEXIBLE -- Data can be transmitted via coaxial cable (shown here) or via telephone lines power lines or radio waves - in any combination.
Benefits for All
CEMaC offers clear benefits to the environment, the utilities and their customers.
CEMaC allows utilities to handle load-shedding on a real-time or pre-programmed basis. Also, CEMaC permits utilities to read meters accurately on a real time basis - at any time. With "Time-of-Use" rates, CEMaC gives utility customers an option to exercise some control of their energy costs.
Load-shedding can reduce peak period demand. With the agreement of energy consumers, each Green Box can deactivate selected appliances for short periods to reduce energy consumption during times of peak demand. The CEMaC system can be pre-programmed for each individual home and for each controlled appliance.
Load-shedding can be further encouraged by offering customers lower rates for off-peak energy usage, in much the same way that telephone companies charge less for long-distance calls made after certain hours. CEMaC provides public utilities with the technology to allow them to offer their customers special "Time-of-Use" energy rates, because the Green Boxes can record and report the amount of energy used and the time of its consumption.
And this same technology makes it possible for utilities to develop accurate load profiles for any customer, or any group of customers. As a result, utilities will have more control over the loads on their systems and they will also enjoy improved buying power.
Following power outages, utilities can use CEMaC's cold load pick-up capabilities to stagger supply re-implementation throughout the system.
With CEMaC, it may never again be necessary to send staff out to ensure the re-introduction of supply, block-by-block or street-by-street, following an outage.
Benefits for the Environment
Obviously, CEMaC's biggest contribution to the environment is the ability to offer everyone more efficient use of energy. But there are a number of other important environmental advantages.
With CEMaC, utilities will have more control over their energy supply. Therefore they will be able to use existing energy generation and distribution facilities more efficiently. There will be less need for new plant construction and less negative impact on the environment.
Starting today, the future looks a lot greener for utilities everywhere. CEMaC will make a difference.
Green is the color of the late twentieth century. People are now moving towards conserving and protecting our natural resources. They are reusing products whenever they can. They are recycling their old newspapers, plastic bottles and aluminum cans. For the sake of their children they have realized that they cannot keep taking from the environment without ever giving back.
The public is beginning to play a far more important role in resource conservation. And they are demanding that private and public organizations join them in finding ways to help.
In North America, public utilities have for some time been at the forefront of the search for ways to conserve energy. But once a utility delivers energy or water to the homes of its customers, it loses control over how much is used and when. And in many cases so do their customers. For example, enormous loads are placed on distribution systems when residents of a community arrive home from work and all use utility resources at the same time.
Although all utilities are ready to meet such a peak demand, that demand may occur for only a few hours each month. And, for whatever reason, should the demand be exceeded, then utilities customers might experience low water pressure, electrical brownouts or even blackouts.
The traditional solution to this problem is to build more energy generating facilities but unfortunately, that can sometimes result in a dramatic impact on the environment.
In addition, utilities are looking for solutions to meter reading problems which result from "by appointment only" readings, mail back cards, extended intervals between meter reads, consumption estimates, and other situations.
By putting today's advanced technology to work, Tertec offers a solution to all these problems and much more.